Happy Friday, friends!  Here is the promised mini-tour of the Wild Ink Press studio. Yay! So excited to share it with you!  Let's start with the outside, shall we?  Our letterpress studio is a little two-story building detached from our house, located in the backyard.  It has its own driveway/street entrance (usually this is our bocce ball court) which sure made it handy when we had to move in our 1800 lb presses.  There's a manual roll-up garage door and also a regular entrance door. The original owner of this house was really into cars, I believe, and this served as a very, very nice shop.  Here's a before photo:
Very promising, right? But kinda Beige-y Mcbeige.  Plus, that roll-up door was blocking a ton of wonderful natural light. Here's the after: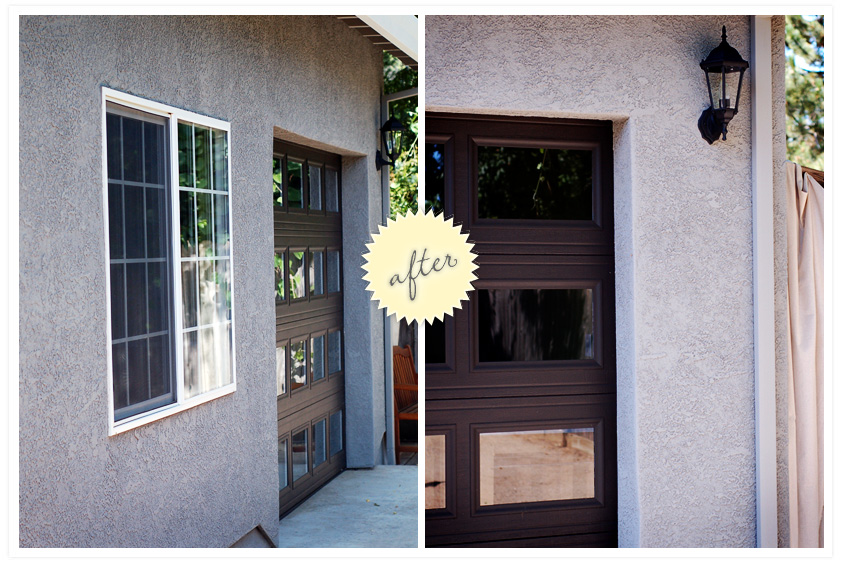 We painted it the same color as the main house and replaced the garage door.  Originally we thought we were going to have to shell out big bucks for an all glass pane door (like the cool modern ones here) but then we called a local garage door shop (Sharp's) and found they could install a standard door but just order regular glass panels all the way down.  The fellow who installed it said he had seen two panels of glass before, but never four full panels.  He thought it was definitely cool, and so did we!  Plus, it cost under a quarter of what a fancy glass door would have cost. Score!  Sharp's (Chico and Oroville) is an excellent shop by the way, very friendly, well-priced and they supplied and installed both this door and our carriage house garage doors in front.
But let's go inside, shall we? First, the before: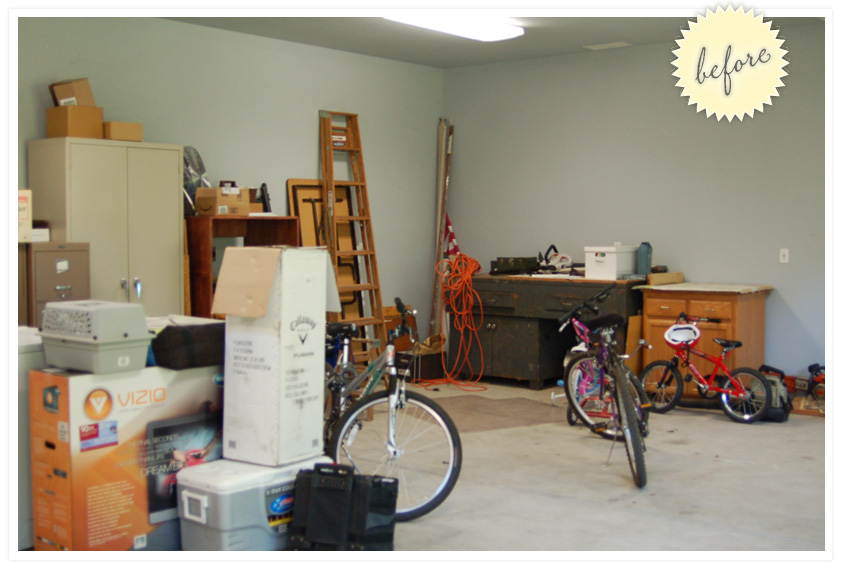 Okay, positives: nice, big space.  Tall ceilings. Smooth walls.  Relatively unscathed cement floor.  Negatives: box fluorescent lighting.  Boring gray walls (I know, normally I love gray). O yeah, and filled with our junk. Seriously, six months after we moved in this thing was twice as full as you see it above, filled with unpacked boxes and painting projects from our main house remodel. You doubt?  Observe: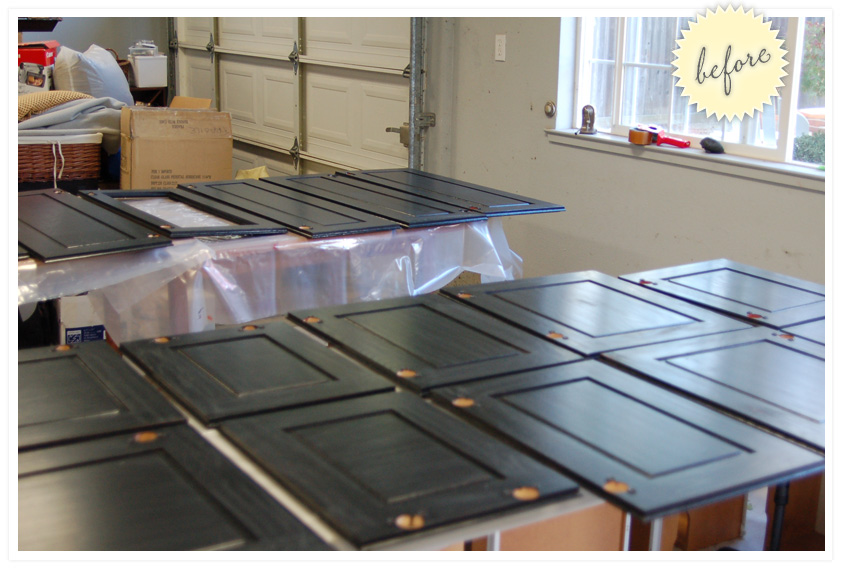 And lastly: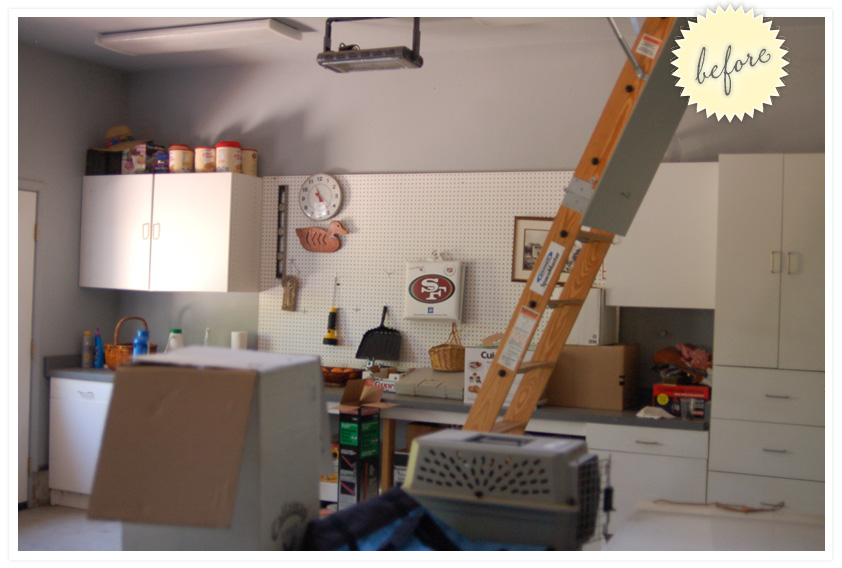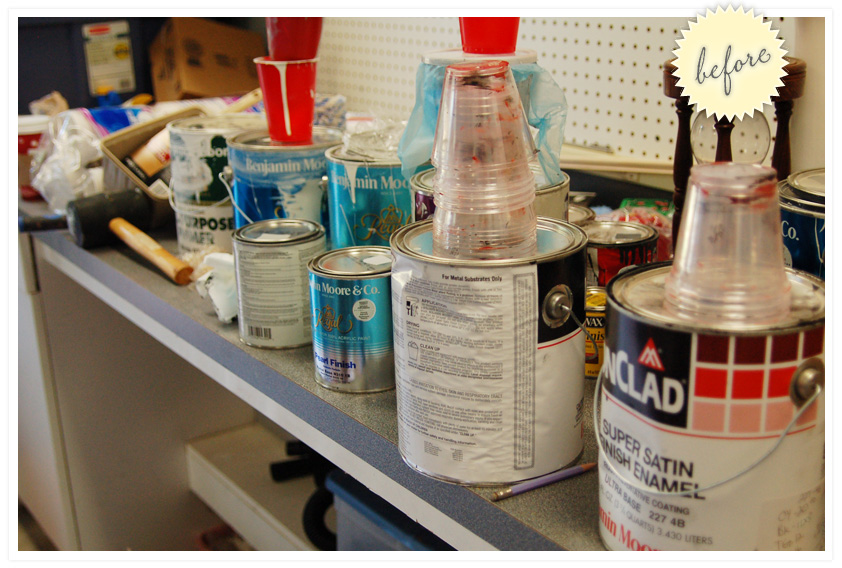 Wowsers.  Just looking at that photo makes me so glad I am done painting the kitchen cabinets.  And gives you a full view of how much we like Benjamin Moore Paint, and what a cluttered mess the studio was.  An M-E-S-S – mess.
And here's the after: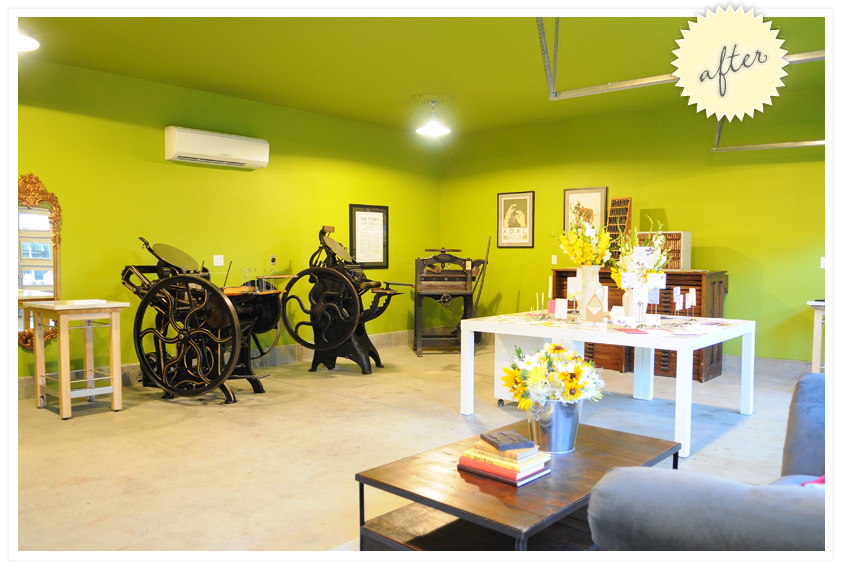 Now, I may be biased because I love letterpress so much, but isn't that just the prettiest thing you've ever seen?  There's our two presses and our paper cutter, and their combined ages are more than 300 years old, about a hundred each.  Sweet, huh?  This shot was taken by the gloriously talented Eikon Photography right before our grand opening.  Our two white parson's tables (from West Elm) don't usually have flowers and displayed stationery on them, rather they usually have stacks and stacks of printed and unprinted work, plus makeready, etc.  But it sure looks pretty this way, right?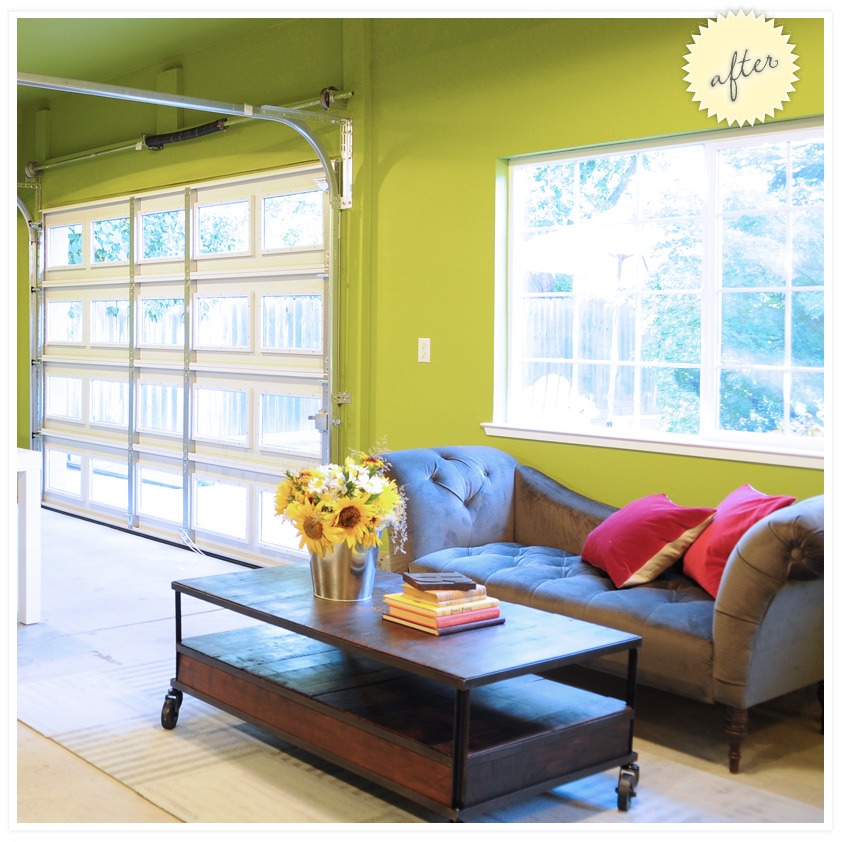 Looks a lot better without the cabinet paint job all over the place, huh?  This is our sitting area, and you can see the new garage door lets in tons of wonderful natural light. Yet it's also shaded by two big trees so it doesn't increase the heat of the shop at all. The love seat (a jewel from Urban Outfitters) and coffee table (industrial from Wisteria) comprise the studio sitting area for meeting with clients and/or friends. We've since added two beautiful Louis the-whatever-number-can't-remember-XVI-maybe? chairs from the lovely Nantucket Home here in Chico.  We picked them up at the Slice of Chico sidewalk sale for a bargain! You can see a tiny corner of them peeking in the photo below:
We tore out the white pegboard built-ins, which were a little automotive and industrial for our taste, salvaged them and reinstalled some of them in our garage – which worked out great.  The new cherry desk and cupboards you see were actually a built-in set from the office/study in the main house.  (You'll see the original later when I get around to a home tour.) We pulled them out from the office, removed some of the top cabinets and all of the molding from the set to keep it from looking too top heavy, and changed the dark green marble-looking formica that used to be the counter top, replacing it with a clean, thick white counter top from Ikea. It was cheap and looks awesome. The biggest change of all, however, was replacing the dated shiny brass handles with antique bin pulls and cool door pulls with ornate backing.  It made the cherry look older and warmer and was just what we wanted. Oh, and the icky fluorescent box lighting?  Gone. Matt did all the electrical for that and did an awesome job.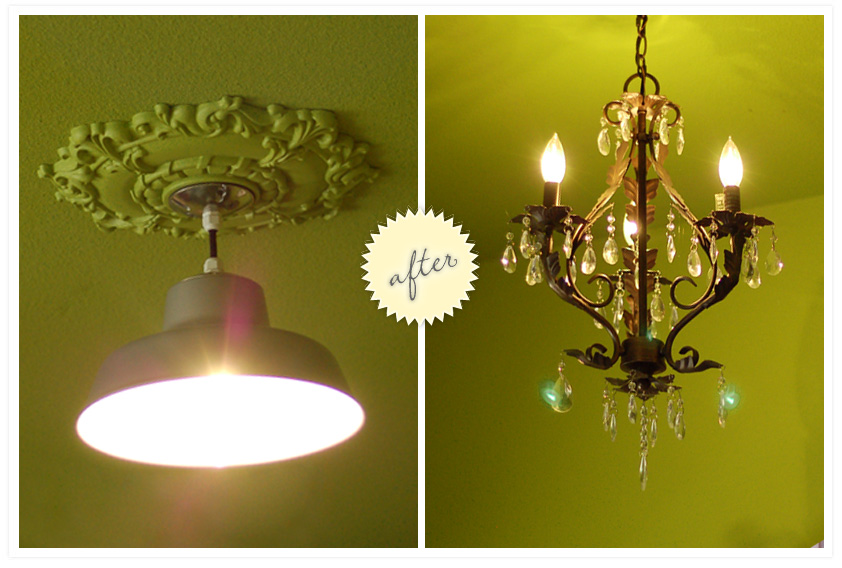 We used warehouse/farm lighting (it's cheap!) but dressed it up with ceiling medallions.  Over the desk are we used chandeliers, from Pottery Barn Kids, actually, because it was the best deal. And we installed the whole system on a dimmer so we can have lighting control in the studio.
Here's the real eye candy, though: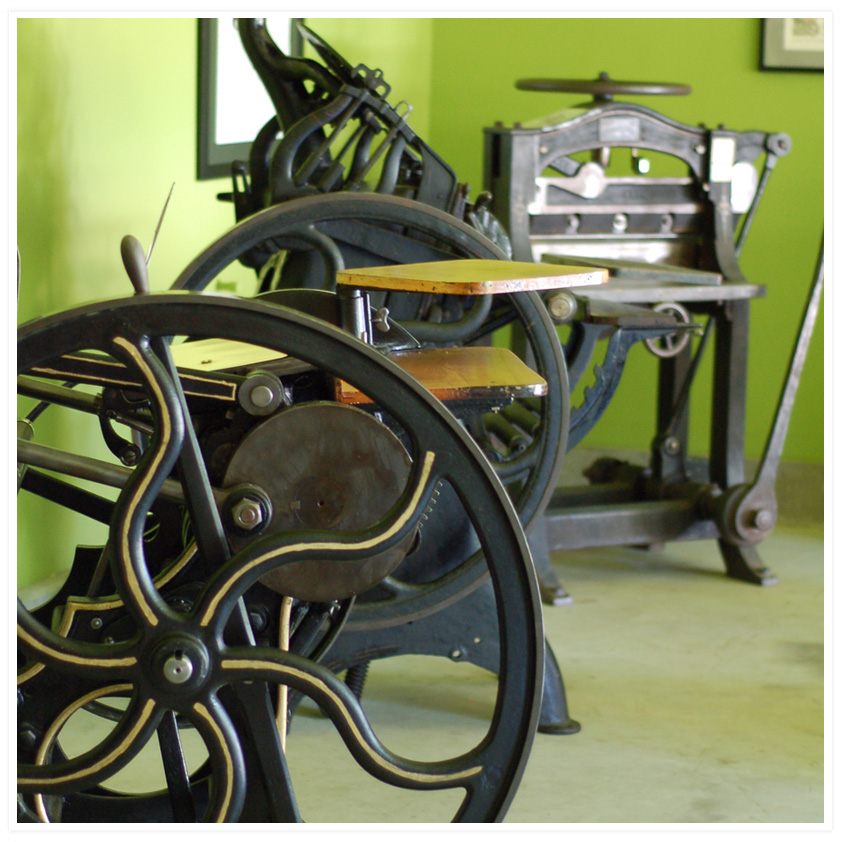 Our Chandler and Price Old Style, Golding Jobber No. 7 and Chandler and Price Paper Cutter.  They are beautiful, old and sometimes cantankerous, but they all still function like they were created 100 years ago! Our C & P just got new rollers yesterday, so exciting. Here's a few vignettes from wandering around the studio…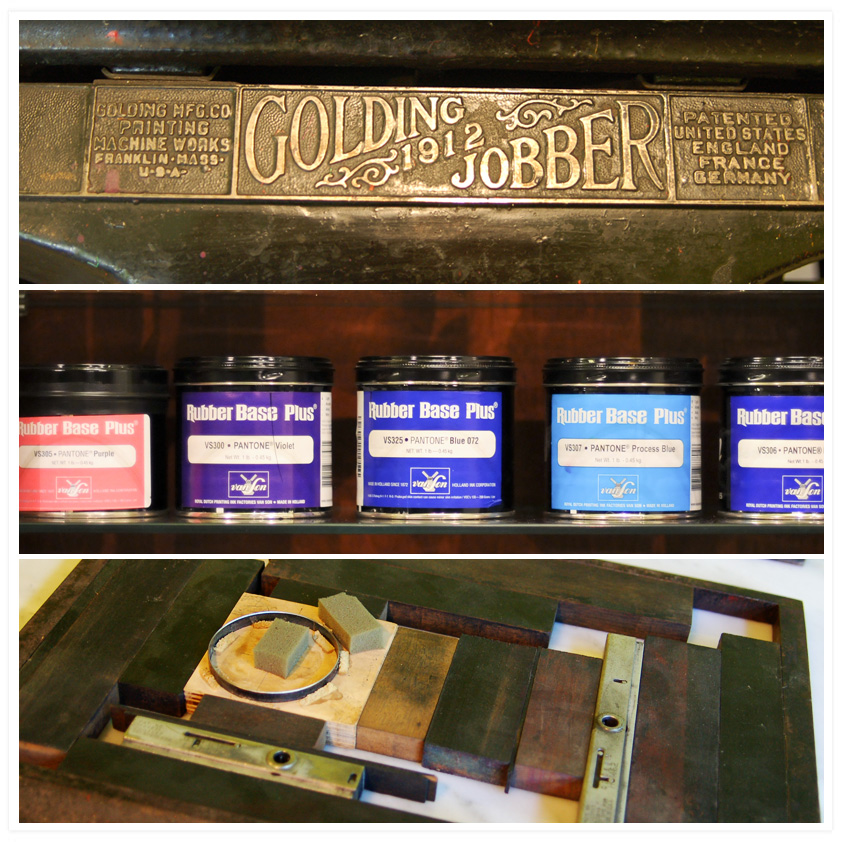 A few of our prized Goines prints…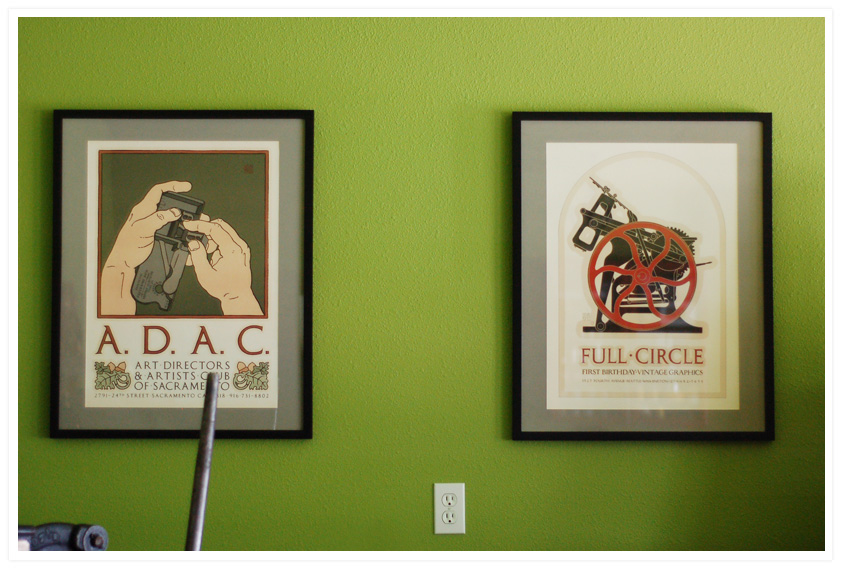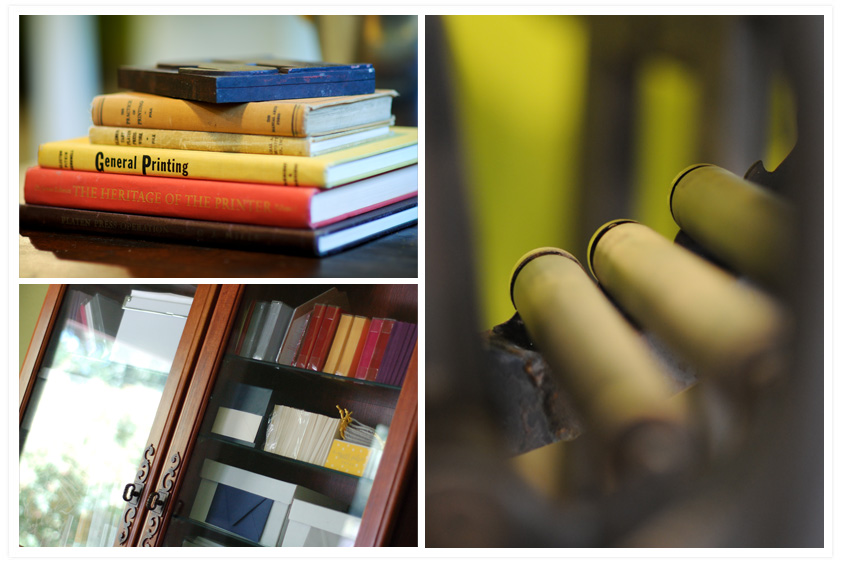 Our old Tubbs type cabinet, furniture and reglets…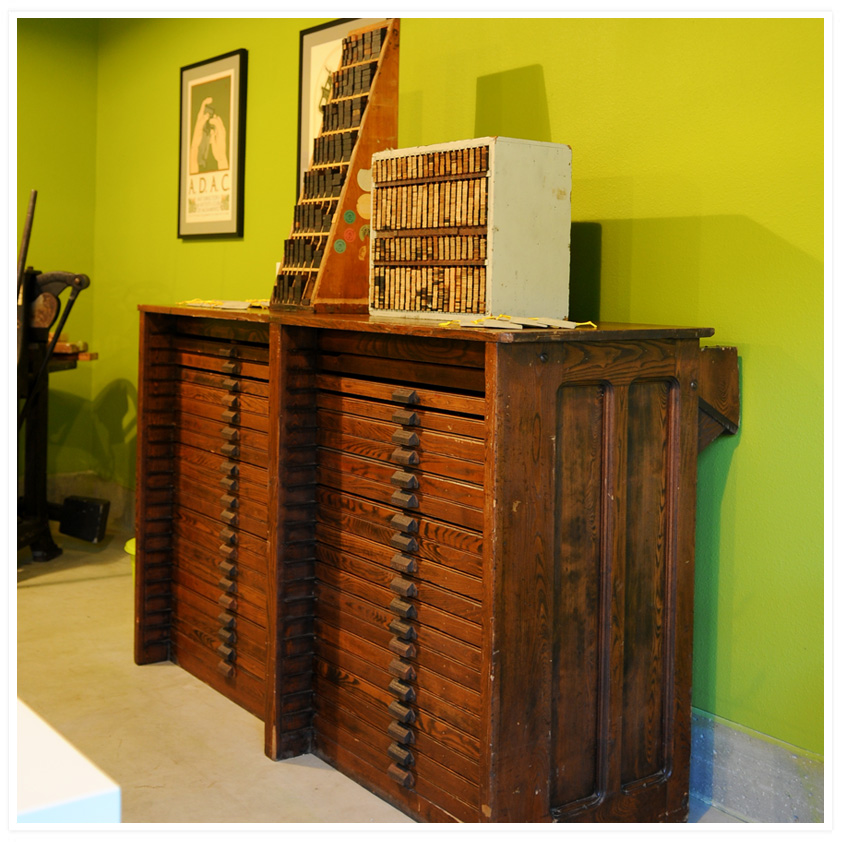 And to round it all out… Mr. Cam goofing around the shop.  He loves the mirror and sofa!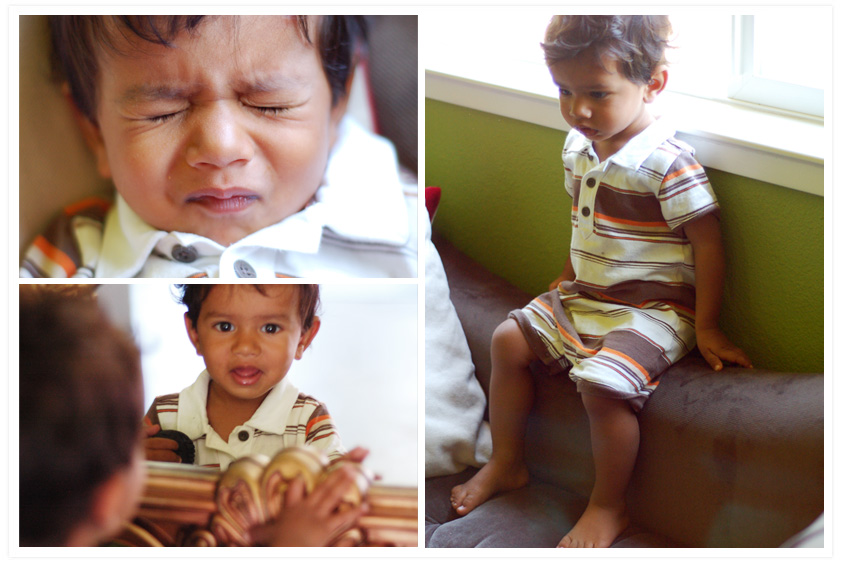 Hope you enjoyed our mini massive tour of the studio!  Come and visit us soon!
09/19 update: A complete tour is available on facebook (99 photos). Probably more than you need to see!