It's an anniversary today. Not a romantic or important one, mind you, but… it's the anniversary of our living room remodel/overhaul.
This time last summer ('08) we had gotten the keys to our new house in Chico, and Labor Day weekend we plowed through demo of living room cabinetry and the face of the main living room wall. This triggered a chain of events: blood, sweat and DEFINITELY tears, as we labored (and still do) to make this home our own. The big original push, some DIY, some CCDIB (Contractors-Can-Do-It-Better), started Labor Day weekend and culminated around Thanksgiving with us declaring phase one of the remodel "nearly done."
And it all started with this wall: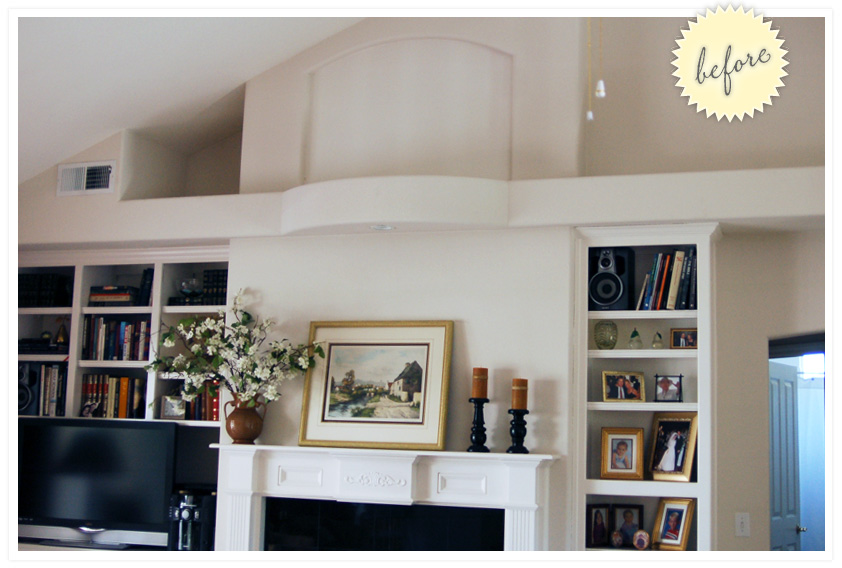 Now, let me preface this by saying, if you're looking at the before picture and thinking "that looks pretty darn good…" well, that's because before Matt and I bought the house it was owned by my fabulous in-laws. My mother-in-law is by no means without style, and pulls off an excellent traditional-meets-french-provincial in deep shades of red and orange. Our styles are simply a bit different. We all agreed on one thing for sure: the 90's era ledges in the main wall of the great room added nothing to the space. Now, seriously, what did builders imagine people wanted to keep up there? Large fake plants? Huge works of art ready to topple off the ledge? This wall, ladies and gentlemen, had no less than six different depths and shapes of ledge on it.
So, labor day weekend 2008, Matt did some demo and we came out with something looking like this: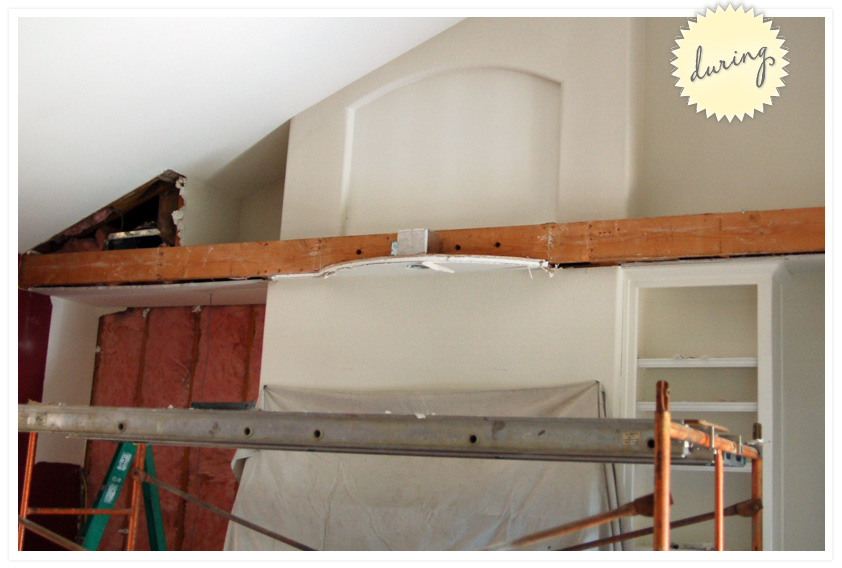 We pulled out the left bookcase and cupboards because I really like balance and symmetry, and the left side wasn't cutting it. Plus, we don't have television, so no TV to put there in that big space. Wall smoothing (cutting down the high parts and building up the low) commenced and then we had this: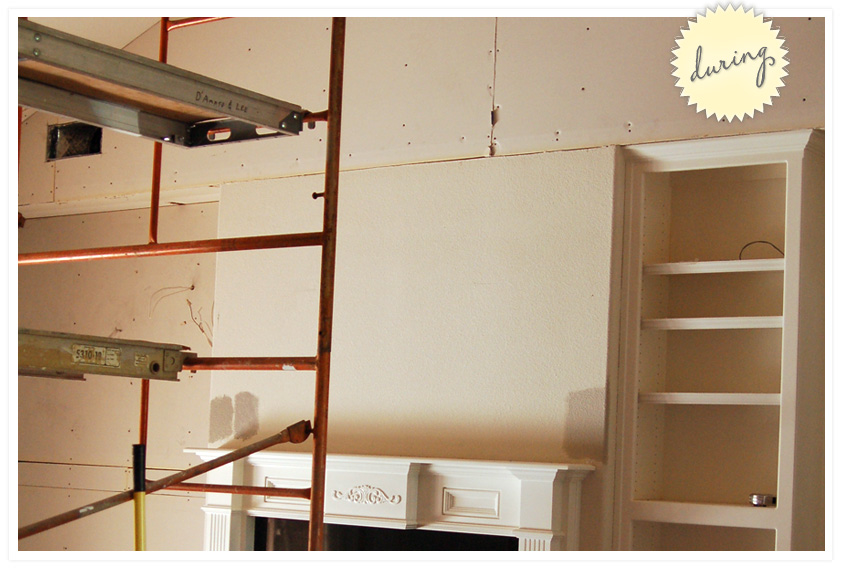 Already looked better, right? Smooth, baby, smooth. Plus, there's a couple hints of paint goodness to come on the left there. Okay, not to leave you in suspense, let's hop to the finish: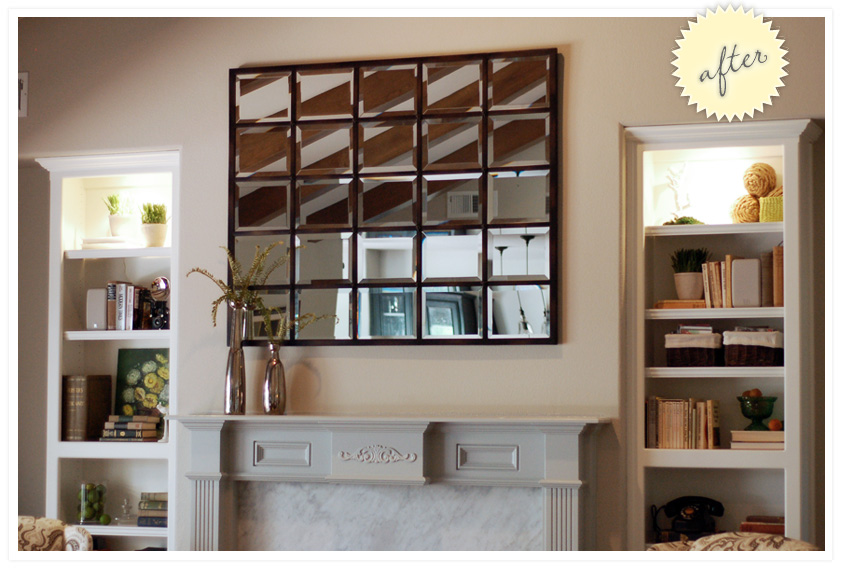 All done! Symmetrical bookcases flank the fireplace, and a smooth, flat beautiful wall has a large multi-faceted, focal-point mirror that I love. I wish, wish, wish I could take a better photo of this. It's a hard wall to capture. The builder-white walls are now a soft warm gray (all of our main areas are shades of gray), and the fireplace sparkles in a subtle swedish gray. Here's a slightly different angle for more ogling of the same: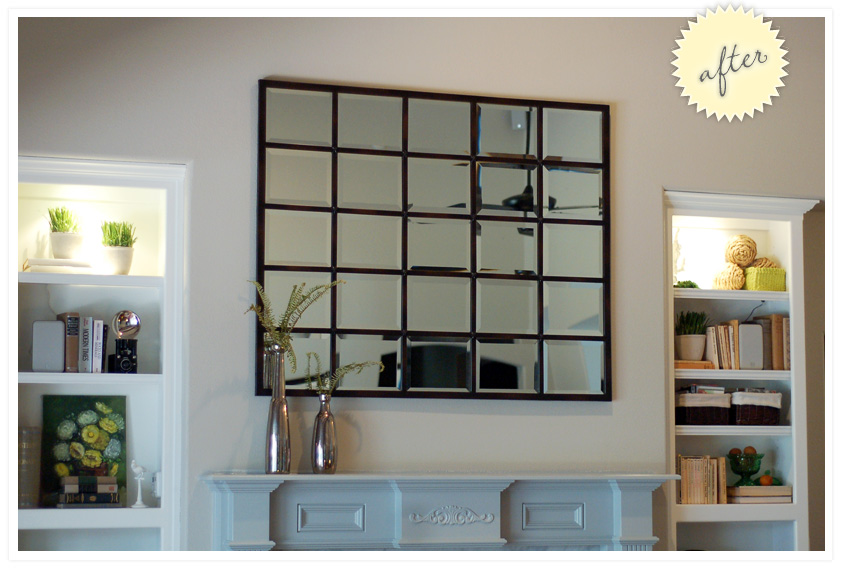 Here is a close-up of the wall that had the media unit, and now has a matching bookcase and chinese armoire: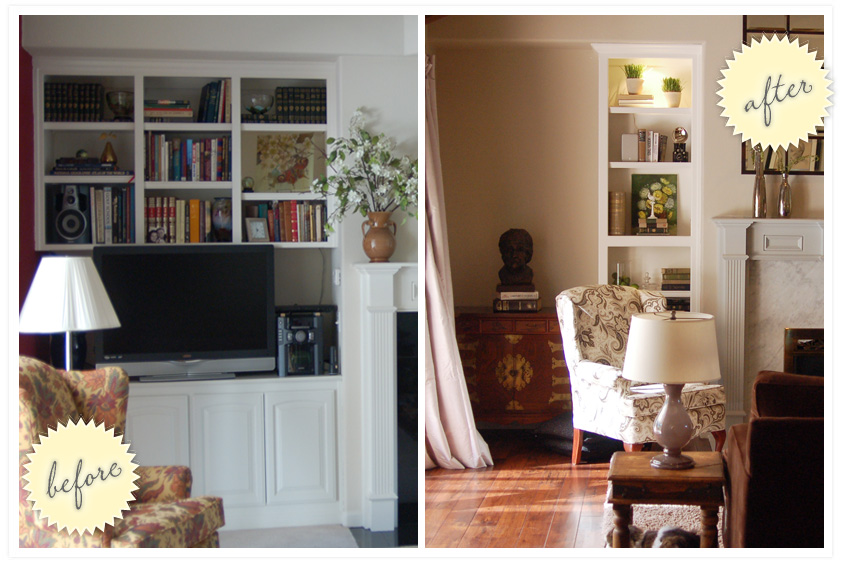 And lastly, more during (I painted the ceiling up on that scaffolding!) and after, showcasing the beautiful tall smooth space: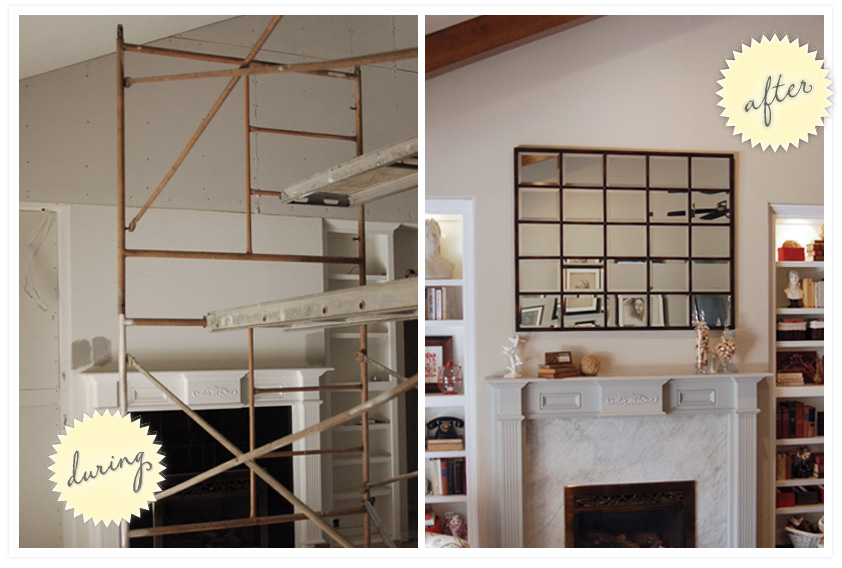 So, yes it's been a year, and I must say to you, dear 90's ledges: I don't miss you much. Actually, not one bit.
More remodel stuff to come later, the venerable handyman himself (Matt) has consented to write us some how-to / DIY columns. Yay!
Happy decorating!