House, meet random blog reader. Random blog reader (I mean dear friend! And I'm glad you're here!), meet house. Since one of my biggest weaknesses/obsessions is with interior design and decor, where we live and how it's dressed up is near and dear to my heart. So… our house will be showing up on the blog along with some DIY projects – because that is our other big hobby!
Our home in Chico is near orchards and flowers and is very bikable. I love this. You can bike along the creek, which is cool even on a blisteringly hot day, you can bike to the store or bakery for a loaf of bread, and you can easily hop on the bike path and get downtown or to the most awesome Bidwell Park. It also came with a glorious space in the backyard that we converted into our studio. It has a Bocce ball court. And the house is not shaped like a box. These reasons alone are enough for me to love it.
It does have one serious drawback in the "Rebekah Tennis Book of Good Housing" though: it's pretty new. I love old houses. I love restoring old things. I like a place that feels history, maybe a creaky floorboard or two, and lots of charm and character. Some day my dream home will be old, big, beautifully situated on the park, art studio in back… just waiting for a loving and restoring hand. But… back to reality, our current house is actually pretty cool. It just needs tweaks here and there to give it character, charm and the appearance of graceful age, since it's really still a tween. We DIY remodeled a bunch last year, and have LOVED the results. (Will showcase on blog, I promise).
Okay, enough talk. Photos: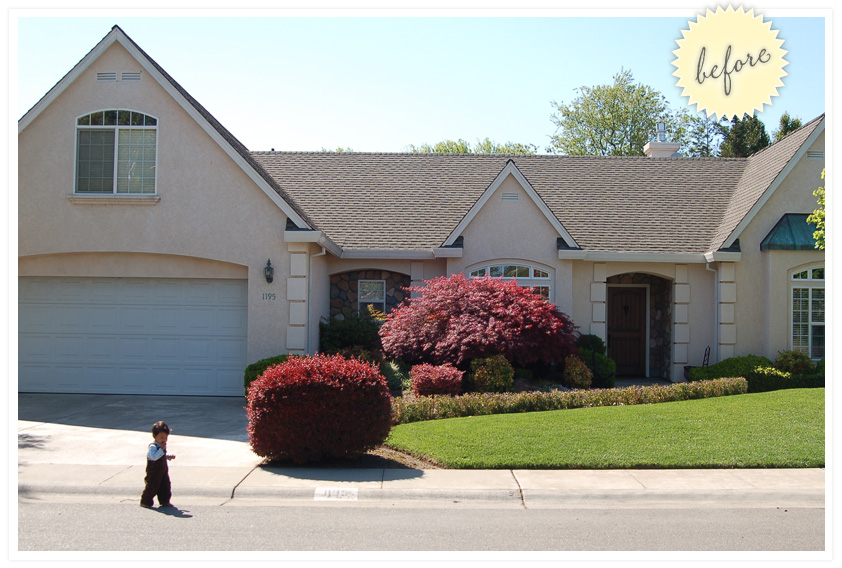 The house before we painted it this summer. Yes, that is my kid wandering in the street, why do you ask?
Then, we chose colors, which is no easy task. I used inspiration from homes in the Fab 40's of East Sacramento to develop three or four color schemes on the computer. Fab 40's homes are old, and cool. Plus whoever is wealthy enough to live on those streets probably hired a top-notch designer to pick their colors. So why not learn from the best? In the end, we chose the color scheme inspired by this sweet little Tudor: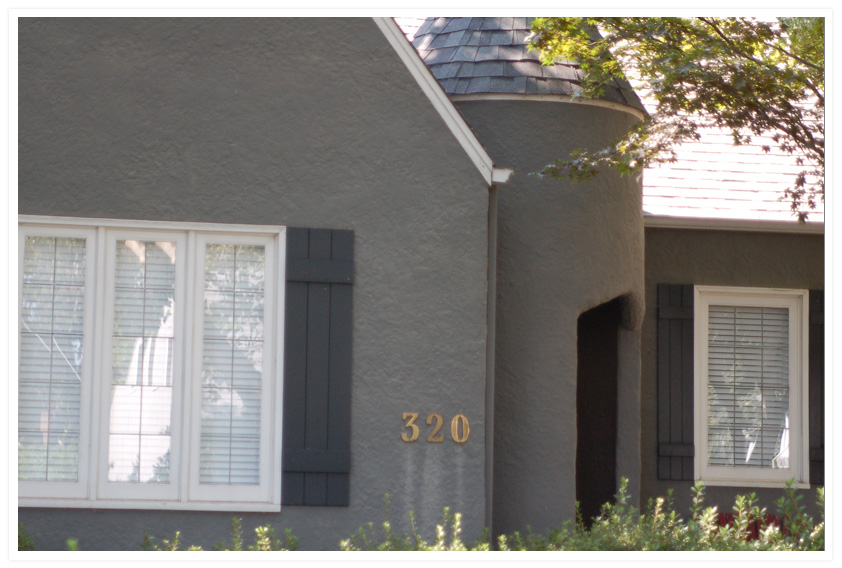 Don't you love the round turret entry? So, we chose five (!) colors for our scheme in shades of gray. Normally, we consider DIY on this kind of thing, but with the grand opening it was impossible, so we decided to give it over to the pros. Here's the after: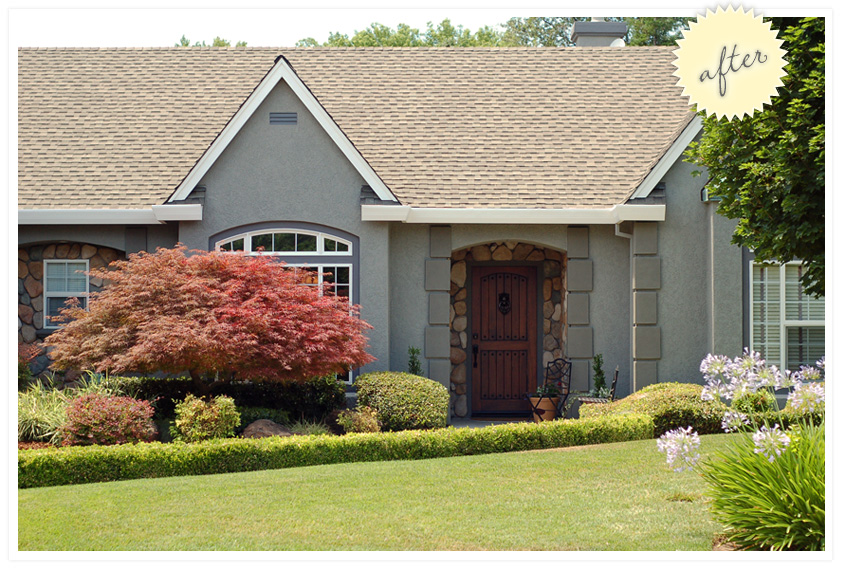 Ah, we're getting our act together now. No more McBeige, and no kid running in the street! I took this photo on a randomly bright and overcast day, so ignore the sky. Another angle:
Garage door = our crowning achievement. So much better than the previous plain (and dirty) white roll-up. Plus it's triple-insulated, so the upstairs room doesn't get nearly as hot as it used to. Yay!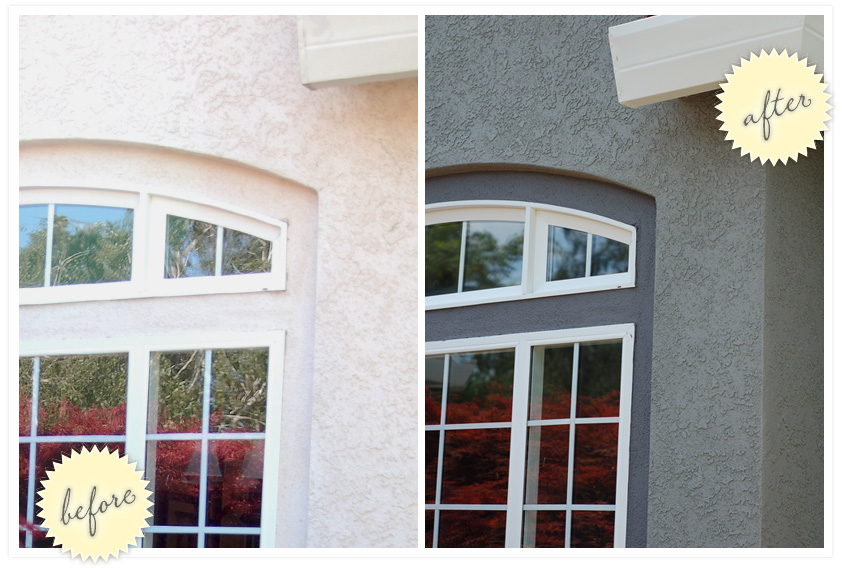 See the nice subtle color change in the window indentation? We used a darker gray to highlight this nice architectural feature and give it a bit more character.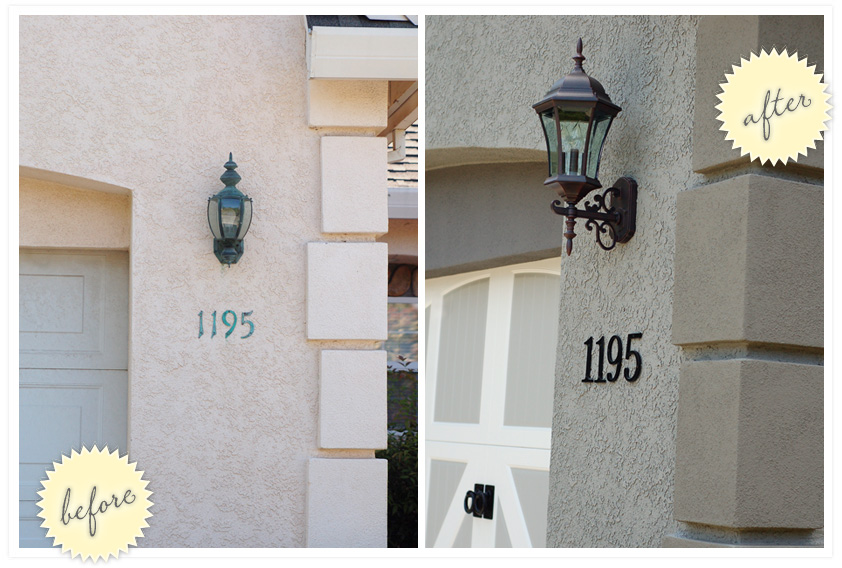 We also used subtle gray differences for the decorative quoins (I love this word… letterpress and architectural meanings), and in the garage door arch and to highlight the panels on the new carriage-style garage door. Plus, we changed out the numbers and lights to a deep bronze/black. I would have loved to have done old salvage for the lights but it was out of our budget and time-frame.
Hope you enjoyed the little home introduction! Stick around because more of this stuff will be coming in the near future!