We celebrated the grand opening of Wild Ink Press in June of 2009. Our studio was done (a fun/labor intensive remodeling project we'll be sure to share about later), and we needed a deadline: to get our butts in gear and get all of our samples printed and to jumpstart the business. June was a little earlier than I originally wanted, but Matt's parents (the fabulous Lance and Audrey Tennis) were going to Europe in July and we definitely didn't want them to miss it. So, with a rush of late night printing sessions, studio decorating, coordinating caterer, photographer, etc. etc – we officially opened our doors to the public on June 18 with a small, fun cocktail party and studio tour. Here are some highlights…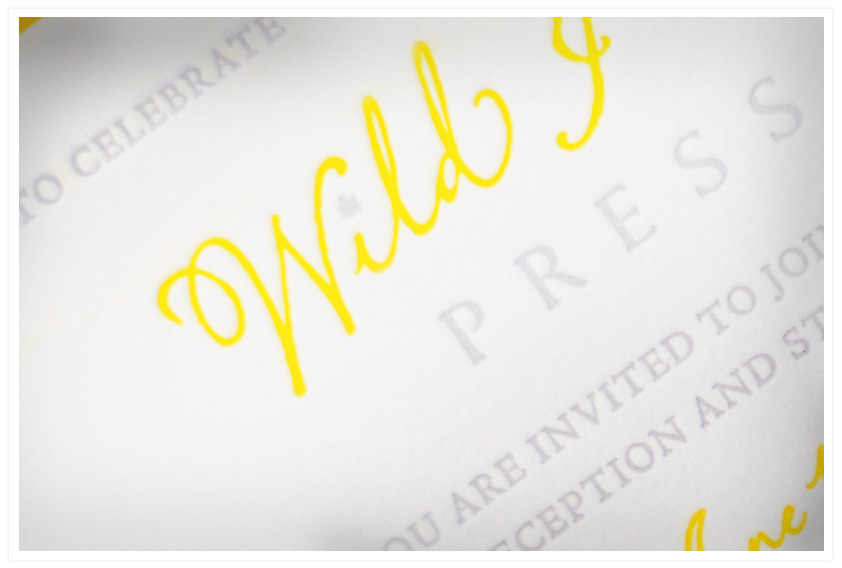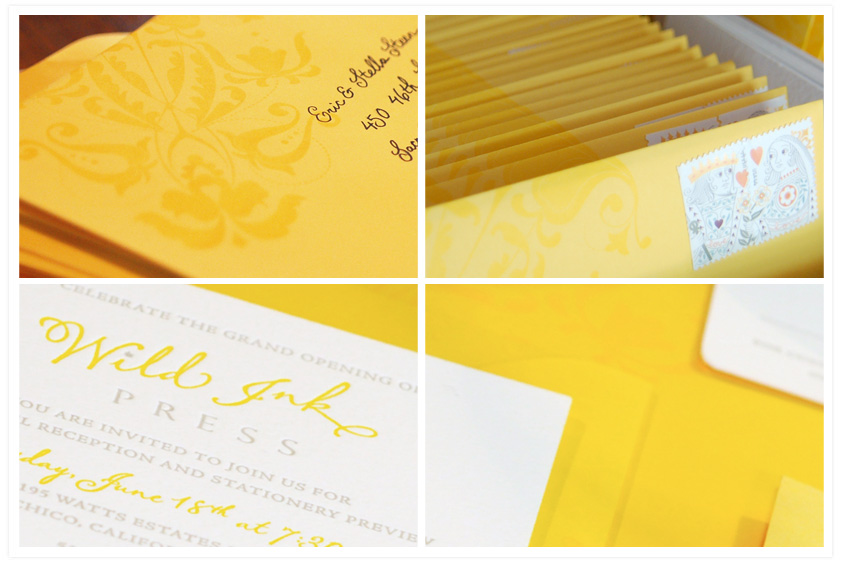 We letterpressed the invitations (of course!) in yellow and gray, our current corporate colors. They were printed on double thick cotton stock and the edges were hand-painted the same sunny yellow. Beautiful King and Queen stamps topped it off, and in the mail they went!
Our Studio is in our backyard, so we set up the party in both spaces. We ordered paper lanterns online in white and yellow and strung them up in our pergola. We bought three 150 foot strands of globe lights to string back and forth across the yard, also ordered online. Even with the cost of the bulbs, this was much cheaper than renting lights, and now we get to keep them forever!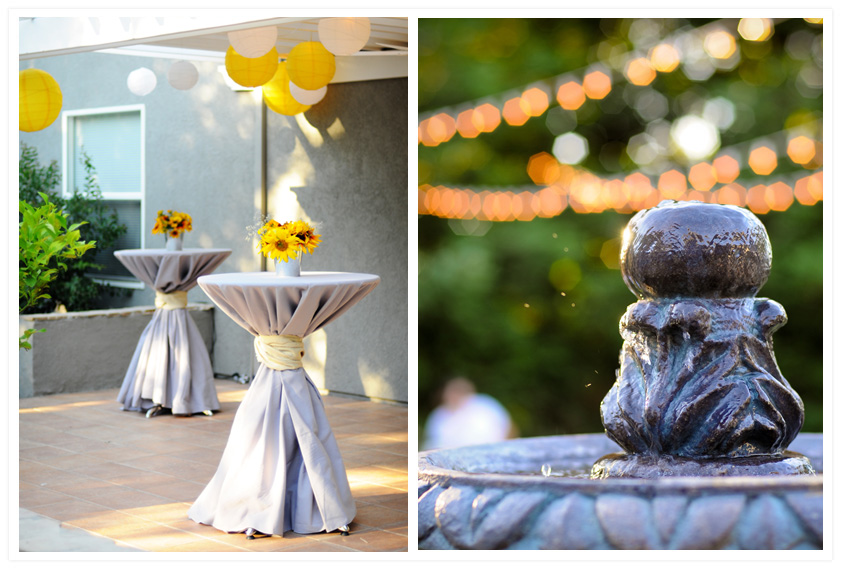 The flowers we got from the Wednesday farmer's market here in Chico. I went a few weeks early and set up with one of the very nice vendors there to buy six bunches of yellow and white flowers (our colors) the Wednesday before the event. This gave them time to make sure they had enough yellow and white and saved us money rather than hiring a florist. I bought two or three filler items from the grocery store, and then my indispensable mother-in-law, Audrey, arranged them in the galvanized tin pails I had gotten from Ikea. We had so many bouquets, enough for a wedding, actually, and it all came to under $75 (tin pails included!). I highly recommend the local farmer's market for decorating your next party!
The tables were provided by our wonderful caterer Amanda at Bacio (more on the food shortly!), and we rented the tablecloths online at Bright Settings to get the perfect gray and yellow colors we wanted.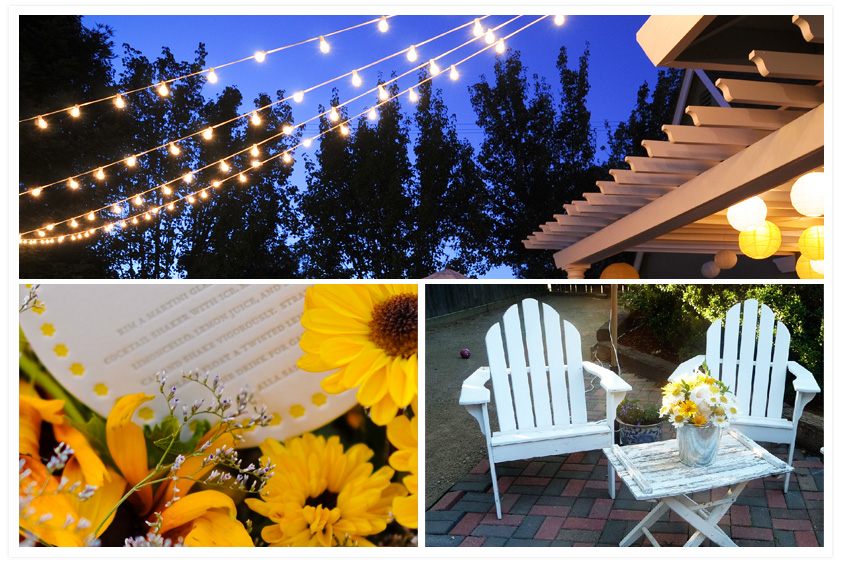 The studio we prepped by cleaning! With all of our sample printing, it had been a cluttered mess. Setting our stationery out for people to view and putting a few flowers around was all we did. The room is very vibrant and very vivid all by its little self.
We gave away gray sample folders of our work (three weddings, custom note cards and a few greeting cards went into each packet randomly), and also a "thank-you for coming" gift which was a blank thank-you card tucked into a burlap sack with a tag that said "many thanks." Yeah, lots of thanks in that sentence, whew!
So much more to come… food, people, the press in action! Stay tuned, don't go away!