This second gift guide was on my heart for a couple of reasons. I know that it 'tis the season of giving and generosity, but rather than just making a charitable donation (which is wonderful) if you extend that also to your giving of gifts to friends and family, then they get to learn about, enjoy and benefit from the knowledge of helping others as well.
I'm just going to come right out and say it. (Warning: this is a controversial statement coming up here, grit your teeth.) A lot of things that are handmade by micro-enterprises around the world and fair trade organizations which represent the most amazing causes, aren't styled to current trends and in some cases can be… downright ugly. There are just certain types of jewelry, or home decor, which you know so much love went into making, and they are just not something you would want to wear or put out in your house without cringing a little over aesthetics. I wish this was different. I know that these artisans are talented and could produce amazing product if they were just given the ability to keep their fingers on the pulse of the general design market in the US and other developed countries. And please understand I bring this up because I love global, fair trade gifts that help people in need directly and would really like to see them succeed amazingly. Hopefully I didn't offend anyone.
Anywhoo…. the gifts below are NOT cringe-worthy, in fact, they are just plain amazing and wonderful: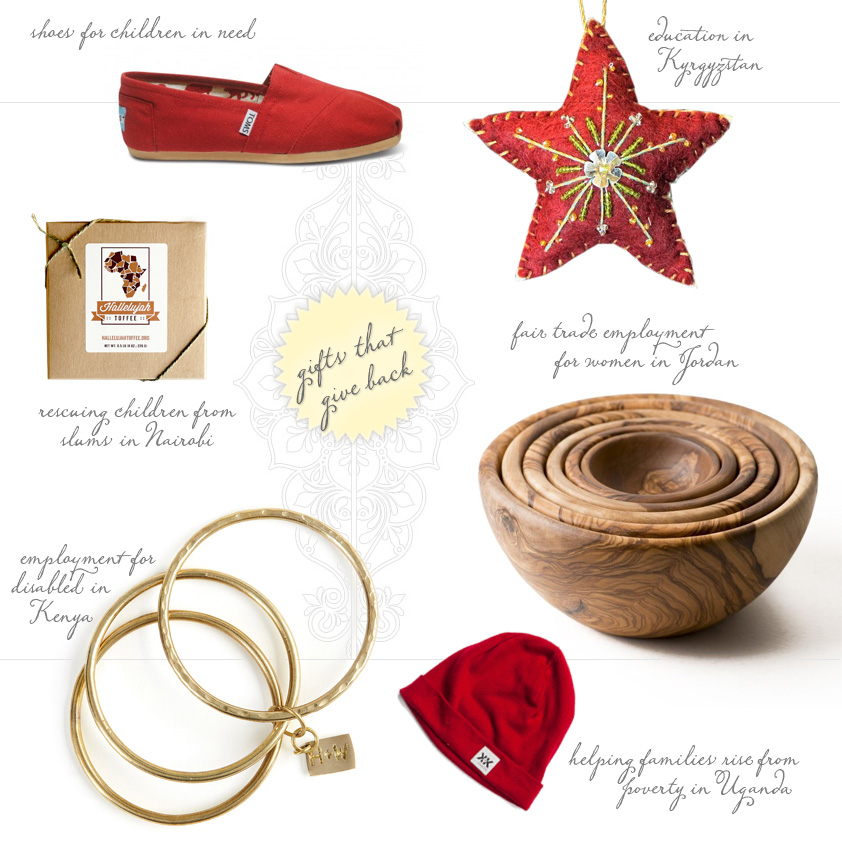 1) TOMS Shoes - we all know these, this company was a trailblazer on commerce for a cause. You buy one pair and one pair is given to a child in need. Personally, I would tend toward their ballet flats, but the classic and original style (in red!) is shown above.
2) A felted wool star ornament – I gave this as my little "ornament hostess gift" that I do with the sisters/mom over thanksgiving. It's sweet and adorable and goes to help families in Kyrgyztan so that they can be financially stable and their children can get an education.
3) Olive Wood Nesting Bowls – These bowls look amazing. If I didn't have more than three sets of nesting bowls already myself… You can learn about From the Earth and the women they help in Jordan right here.
4) Red Beanie – Made in Krochet Kids program lifting families from poverty in Uganda. Looks just like something you could buy at Urban Outfitters or American Eagle, but of waaay cooler origin.
5) Triple Brass Bracelet – Amazing! Look at the beautiful hammering detail! Made in Kenya by artisans with various physical disabilities, I think pretty much every thing they sell is charming. You can learn more about it here.
6) Hallelujah Toffee – We were gifted some of this toffee this year, and let me tell you, it is good. The package styling is perfect for gifting as well. 100% of the proceeds fund schooling in Nairobi, Kenya.
That is just the tip of the iceberg! Click through, explore the other fine crafts made on those websites, I'm sure you'll be inspired by something and find a great gift for a purpose!