Today I'm going to share with you a part of my journey. Now, this isn't normally scheduled blog content (not that the blog has had any content at all recently, doh!), so if you want to ignore this post and wait to come back for more building remodel, cool stationery and other designy stuff, feel free to go ahead. However, I made a resolution on New Year's 2014 that I would be brave with my life and share my story before the year was out. And since it's almost 2015 (hello, procrastiworker!), it's time for me to dig in deep, be strong and follow through.
As most of you know, I've been very, very blessed in my life – I live in Chico which is an amazing small college town, I'm married to a fantastic husband, we have three wonderful boys we fought hard for (through adoption),  and a flexible-but-demanding career that I love very much. It all seems so great, doesn't it?
The thing is… the thing is. I didn't feel healthy, and I wasn't taking care of myself. I used to tell my husband this "a woman has a choice between having a great home/family, having a great career, and looking/feeling amazing herself – you can pick any two, but never all three." I had clearly thrown myself on the chopping block in order to craft a well-designed home and humming business. Once upon a time I was active. Once upon a time, I ran races and a marathon (or two). But before we opted to go to Pakistan and adopt Cameron, I had taken a series of hormonal fertility drugs that left me 15 lbs heavier and quite sedentary. And after we moved to Chico, I lost my network of active friends (read: my one running partner), and struggled with the motivation to drop my children in gym daycare and slog it out on a treadmill. It took so much of my time, took me away from work and projects, and the babies were always coming home sick, on top of which they didn't care for it, either.
But let's fast forward to today, shall we? I'm currently 28 lbs down from my maximum weight, and am able to fit into my jeans from highschool (which still look sucky by the way, I'm not sure what I was thinking) and feel healthier and happier than I ever have. I've created a new lifestyle, habits that last and long-term change for me as a person. I know this because my story is not a flash-in-the-pan, quick weight loss success story. It's been a one and a half year journey, losing about 1/3 of a lb per week. That's right, three-tenths of a pound at a time. A rockin' pace, right?
Before I continue on, a picture is worth a thousand words. I'm taking a deep breath, I'm being brave here, please bear with me. If you are bothered by pictures of people in bikinis (especially me), please don't continue. I don't intend to offend anyone. I'm just trying to tell my story in the most honest, straightforward way possible and sometimes that involves very clinical assessments of yourself – documenting your process and not lying to yourself.
Okay, here goes.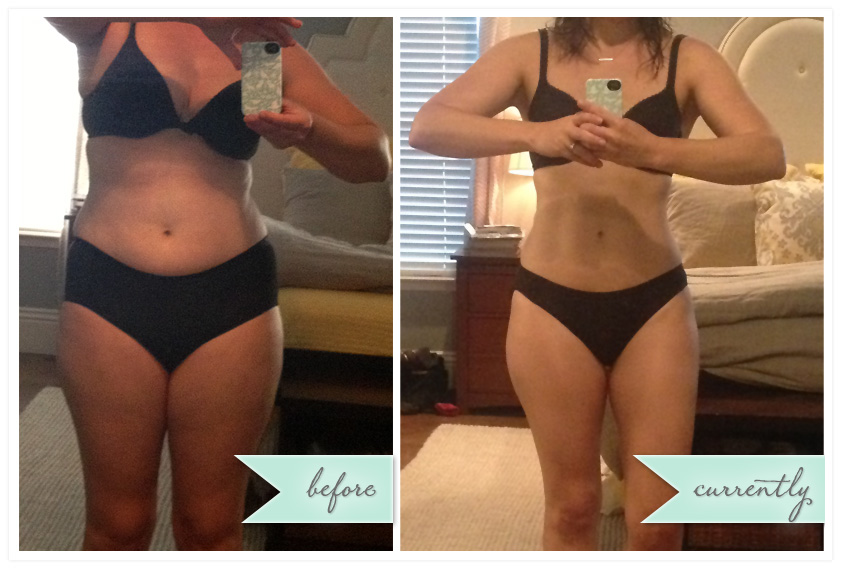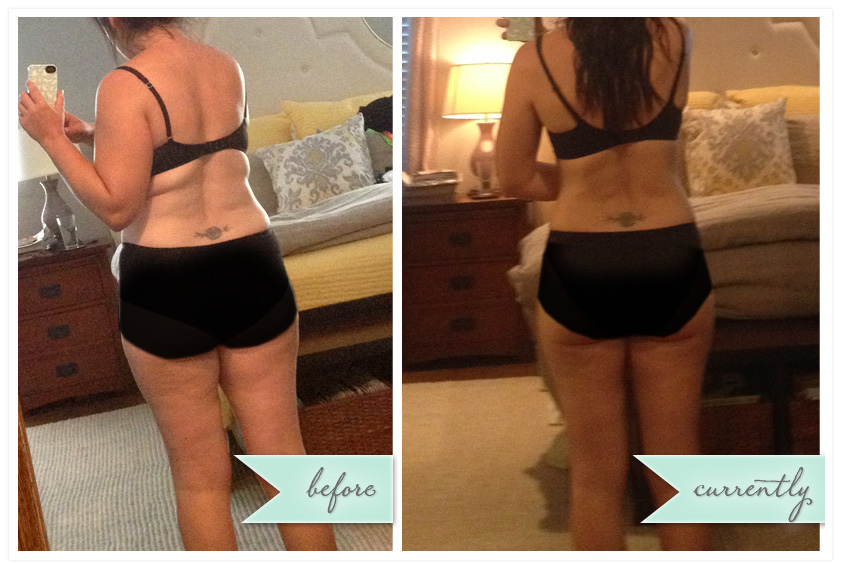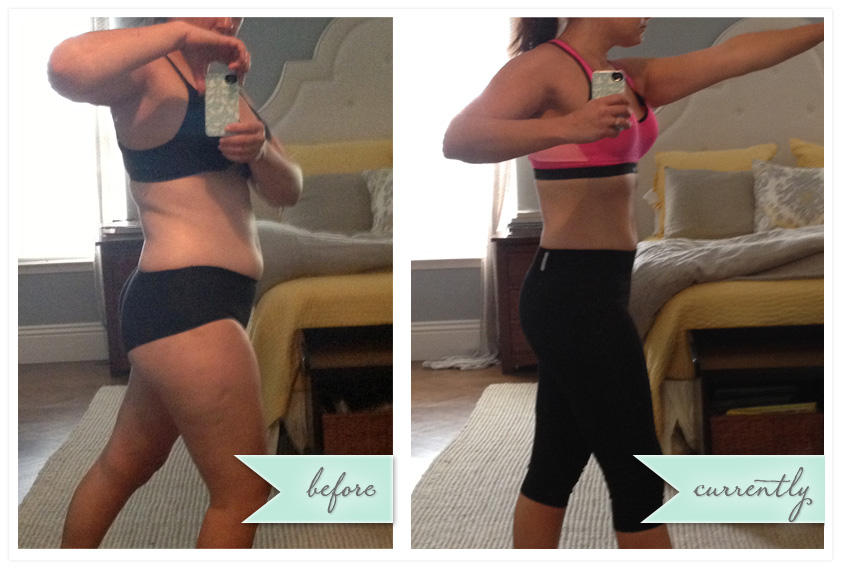 So, I'm going to share the story of my journey to healthy and what worked for me, and who knows? Everyone is different and it could possibly work for you and change your life.
I resolved to change my personality. Why? Because my personality wasn't working. My personality was gaining weight every single year, and my personality liked to be sedentary and indoors and cook for people and eat lots of cheese. If someone had a personality that was mean or unkind towards others, we would encourage and urge change. So, what's the difference between that and being mean and unkind to one's own body? So, the first step in changing my personality was deciding to intentionally change my decisions. To do this, I wrote a daily reminder on my phone (what do we keep with us at all times besides our phone?), and it still chirps at 3 pm everyday: "Do Something Active!" it says. I picked a great time for the alarm because it usually comes as I've been sitting at my desk most of the day and my legs are starting to swell up a bit and I'm feeling uncomfortable. I will never dismiss the reminder because it now is an amazing part of what I've become – an active person. The second decision I changed was my response to people's activity suggestions. If someone asked if anyone wanted to go on a walk, or a hike, or bike in the park, or even cross-country skiing while we were at the cabin, I would say YES. No matter how cozy I was, no matter how engaged in something else, I would choose the active and interactive option even if it killed me. And you know what? It didn't kill me. It was always a rewarding experience that I was so happy in the end I had chosen to do.
I made a very precise plan. Which didn't work. At first it didn't anyway. Along with the active reminders, I added a morning workout schedule to my phone. Three days a week, it would chirp at me at 7 am: "Run 2 miles. Walk 1.5 miles. 3.5 total". On non-run days, it would beep me at 8 am: "10 squats. 10 lunges." or "25 sit ups. 10 push ups." Now, I started doing these things proactively on January 1, 2013, but quickly tapered off and lost steam and dismissed the annoying reminders everytime they popped up. There is always a reason not to run. Even with a treadmill. So, I adjusted my precise plan to another precise plan: I was going to go to a "bootcamp" and jumpstart the process of getting myself in shape. I just had to commit to 6 weeks, and then see the results and go from there. I googled all the programs that Chico had to offer and found Kaia Fit, a women's only program, that is sort of a smash-up/smorgasbord of bunch of activities: circuit training, cross-fit style exercises, yoga/pilates and running to boot. Not to mention, they threw in some nutritional advice, which I thought I'd loosely follow and might help me along. There was the annoying fact that they spelled everything with a "K" (Kondition Kamp! You Kan do it!) but they were women only, and a boot camp, and I really wanted to give this my best effort, so I emailed the owner and after a few questions, signed up for the 5:30 am class.
Yup, I changed my personality again. Anyone who knows me or knew me at this point must be chuckling. I am so not a morning person. Matt usually has to bring me a steaming cup of hot coffee in bed and, well, not talk to me for the first 30 minutes before I'm anything other than a grouchy beast. However, 5:00 am was the only time slot where I could guarantee getting the workout in with a) no childcare needed, b) not intruding on my very busy business or c) my precious home-life with family in the evenings. It was my only NO EXCUSES time. And I was taking away excuses, so I removed that one.
I documented everything. The before pictures you see were taken two days before my first bootcamp workout. I took progressive pictures every 6 weeks after that – they show just the tiniest of changes (although the first six weeks were the most drastic), but they were legitimate in gauging my progress and not getting discouraged or deciding to crash-diet or anything stupid. I wore the same black bathing suit and took the same four positions every single time. The other thing I documented? My food. Every single bite that went into my mouth. You doubt? Just ask my husband. I would sit down to dinner with my phone and record the whole meal before I would taste anything. I used the app MyFitnessPal, which I highly recommend, and I strove for accuracy and again, never lying to myself. Not even the tiniest white food lie.
I made sure everyone was on board. The number one sabotager of a health and exercise plan can be your spouse. If not your spouse, then your family and friends. I was really blessed because I told Matt very clearly what I wanted to do- "I want to take this bootcamp and eat very cleanly and get my health back" and he was SO amazing and supportive. I had to be brave and say "no" to foods like desserts and breads and seconds that were pushed on me by multiple loved ones during the process, but I found that the firmer I was without harping on it, the better it went. Matt would back me up and say "she's not having any dessert" at my prompting, and once that was out there, it's a lot less likely that I would be pressured to have some, or even have the urge to try any myself.
I said things outloud. Do you know how powerful it is to say things outloud? If you make a commitment in your head that you are not having seconds, or that you will go to the gym the next morning, you haven't affirmed it with anyone. It's easy to cheat on yourself. But I have trouble breaking my word to others. So, I would say to Matt, "I'm not having anymore after this serving." Then it would be out in the open and I wouldn't be thinking about it anymore and I could enjoy the rest of the meal and conversation. The same goes for working out – if you tell someone "I'll be there" it is infinitely more powerful than just telling yourself inside your head.
I prepared in order to succeed. I laid out my clothes the night before, down to the socks, shoes and underwear. I set my alarm and I promised myself I would NEVER HIT SNOOZE or DISMISS under any circumstances, and you know what? I never have. I set the alarm across the room, and I learned to trust it. I used to wake up several times a night, wondering if it had gone off and I had missed it, and worried it wouldn't work. Nop, my alarm (which again, is my phone) is flawless and has never failed me and I no longer worry but completely know it will take care of me, and I'll have to walk all the way across the bleepin' room room to shut it off. At which point I'll be awake and get dressed and go!
I changed my eating habits – mostly. Things that I changed entirely were this: I never skip a meal anymore. I eat salad for breakfast and lunch (it's the ONLY way you can get all the green leafys you need!), and here's the mostly part: I document my dinner carefully, but still choose to cook delicious meals but eat a smaller portion, and be sure they are whole foods. I drink water like it's my job (to make this an enjoyable lifestyle change, we invested in a water sparkler, so we have sparkling water always available). I drink hot water in the winter and cold water in the summer. Water is amazing, it makes you feel full, it's great for your skin, and after a while, I developed a taste for it (I am not naturally a water drinker). I also worked HARD on cutting my sodium – it does bad things to me, and on eating a lot of fiber. 35 grams per day! Try it, it can change your life!
Breakfast!! (A 2 white, one whole egg scramble with spinach and leeks. With a side of greens.)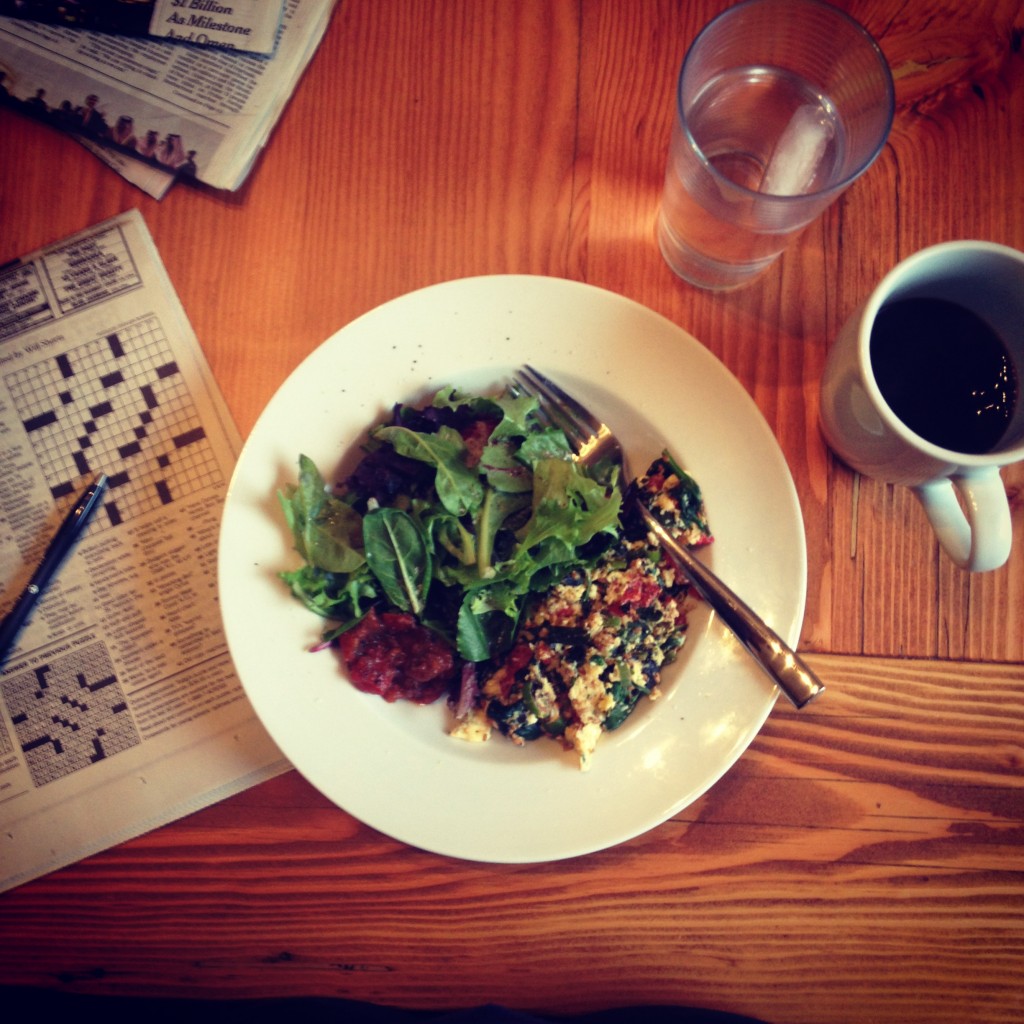 Lunch!! Chicken, Apple, Arugula, mixed greens and cold lentils. With lemon juice squeezed on top.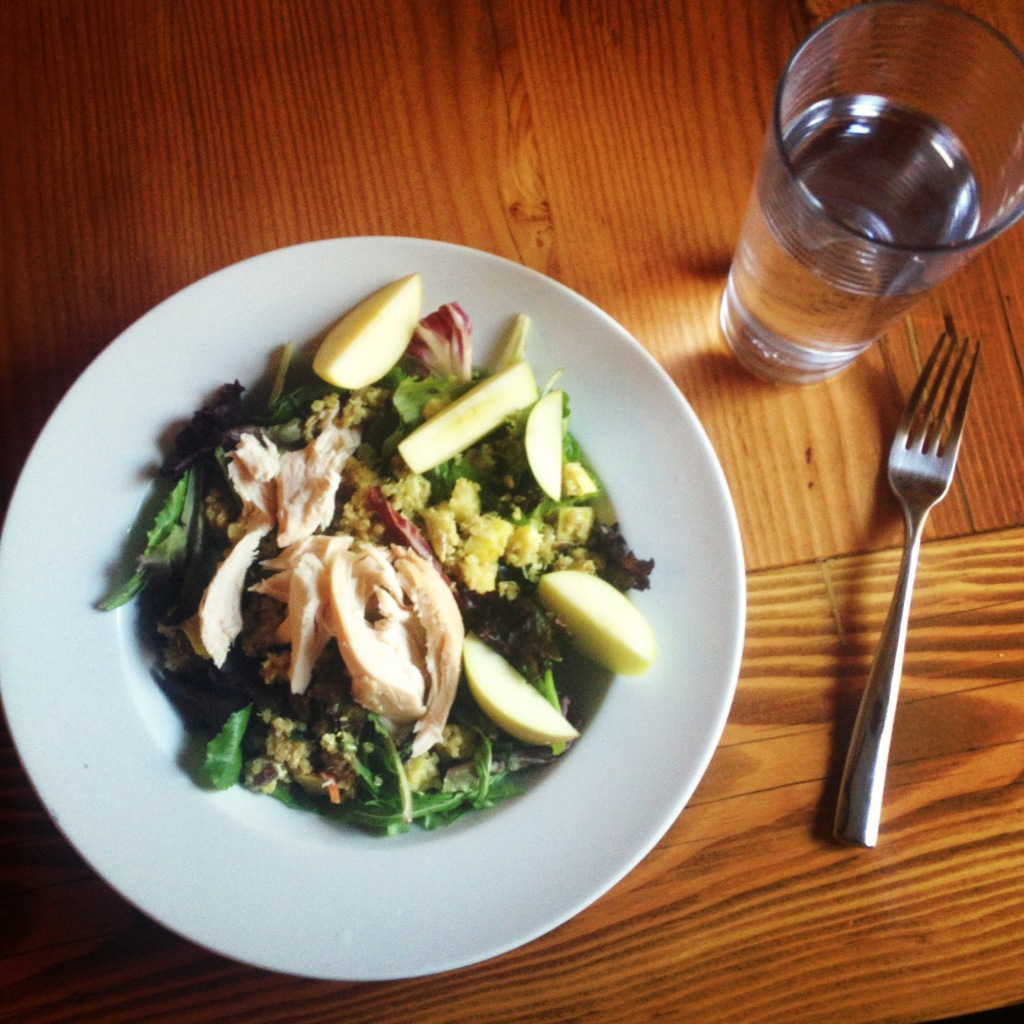 I chose well – Kaia Fit is Awesome. Period. The coaches are supportive, the workouts offer endless variety, and you are guaranteed to be sore the next day in some tiny muscle you never knew existed. When I started at bootcamp, I could not do 10 "real" sit-ups in a row, I could not jump a rope, I couldn't even do real "girl" push-ups. I saw some drastic changes in the first 6 weeks (my mile time shaved 30 seconds, for one), but other changes came even more slowly and weren't things I had even been planning to do. I still remember the day I was doing push ups in a workout and Laura (the owner) walked by and told me it was time for me to be doing those on my toes, not my knees. Amazingly, I tried it, and I could do it. A full push-up, military style, done by this girl. I had become something I never thought I could be. A lot of people say that this type of workout is expensive, but I am going to say that it is an AMAZING deal compared to hiring a personal trainer (which you get, essentially) and group workout classes combined with a gym membership. I know because I've had gym membership, and I've paid a little extra for those classes, and I've also gulped at the price of a personal trainer.
I was not in a hurry. Why be in a hurry with something that you want to be the rest of your life? It was a very slow process, it took a lot of time, but I knew that little by little, tiny pound and muscle by tiny pound and muscle, I was making a lasting difference in my body. I never wanted to create habits that were unsustainable or too hard or unpleasant to continue long term. Push yourself just enough, but not too much, because you are trying to shape lifelong habits here.
So, I stayed waaaaaay past the six weeks I had determined to do for bootcamp. It was working, albeit very slowly, to change who I was, and every day I felt more energy and more resolve to continue. It had become a huge, amazing habit that had enriched my life. And guess what?  I'm sharing this with you before I've even reached my goal. Yup, on my best days, I'm currently .8 lb from the goal I set for myself at the beginning. Yes, less than one pound away! And I've been hanging out there for the past month or so. But I'm not worried, because it's a lifestyle and a journey, and slowly but surely I'll get there.
And Guess What? My children and my husband AND my business benefited from me taking care of myself. I am able to run with Cameron in 5k races and I feel energy to DO things with the boys and choose the active solution. Matt gets to be married to someone who is a lot more confident in their appearance, therefore more confident in being attractive and this makes for a much better relationship overall. He always felt I was attractive, but now I FEEL so, and it makes a big difference. And my business benefits from less crazy nights and sleepy mornings as I just can't stay up late cramming when I've got to be up before 5 am. It's been a win all around.
So, if you're looking for a get thin fast solution, or a miracle New Year's transformation, this might not be isn't it. However, it could take you from being a girl who was a sedentary meal skipper/food lover, uncoordinated, couldn't jump rope or pull herself up in a band, afraid to even TRY to do a handstand, non-morning person… into an active, well-fed, jump-roper, handstander (but still uncoordinated) who's not afraid to TRY, and is still not a morning person but has decided to boss that around too.
I did eleven races this year. Eleven! Last Sunday was the 10K Jack Frost. And I still get those little phone reminders, except now, when it chirps at me "10 squats, 10 lunges" I just smile and think: oh you cute little alarm, I did more than  50 lunges this morning(!) and push dismiss. I'm not saying this to toot my own horn, but to let you know that anything is possible if you purpose to try and continue trying.
Lastly, I'm going to share with you two fully-clothed pictures – one taken September 2013 and the other taken last week: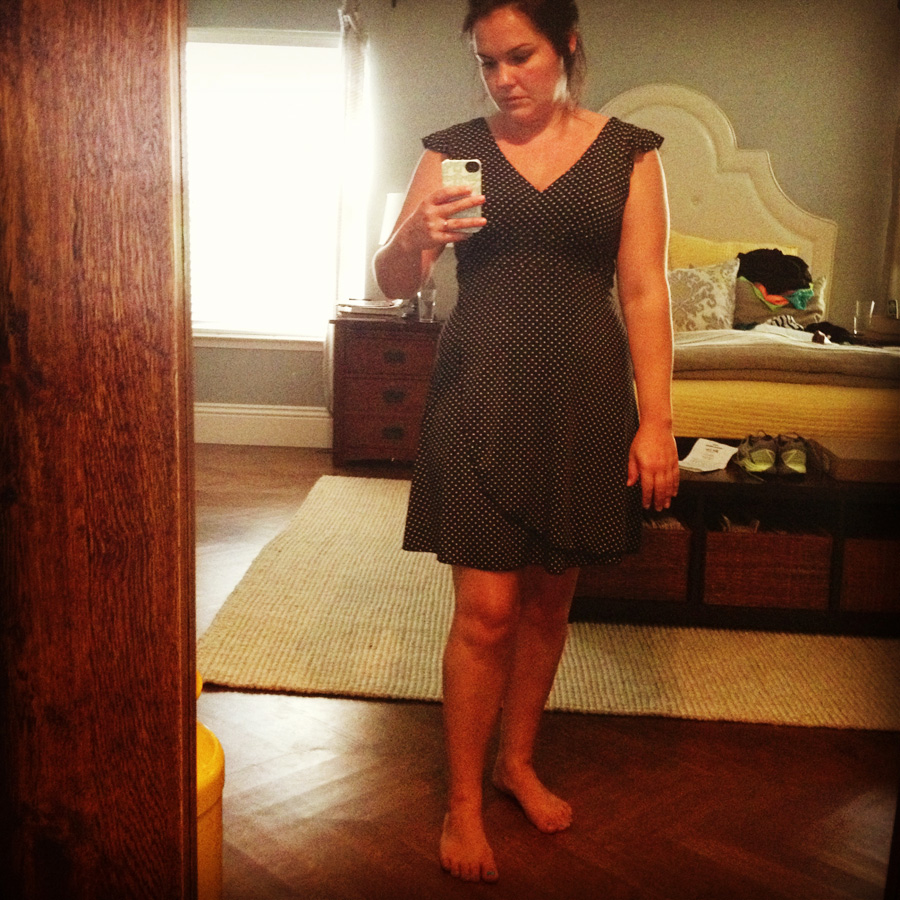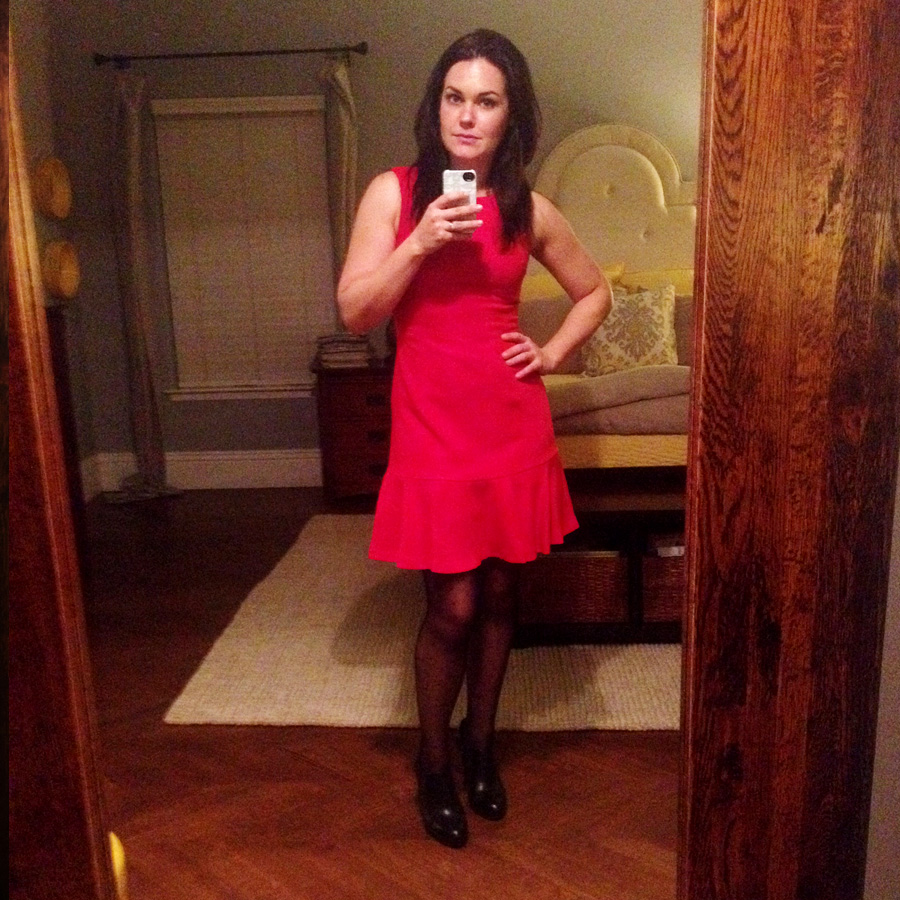 The bed is the same (a made bed is awesome. always.) but the girl has changed. And I'm so thankful for it.
This next photo is my favorite of the whole year, and possible ever that was taken of just me: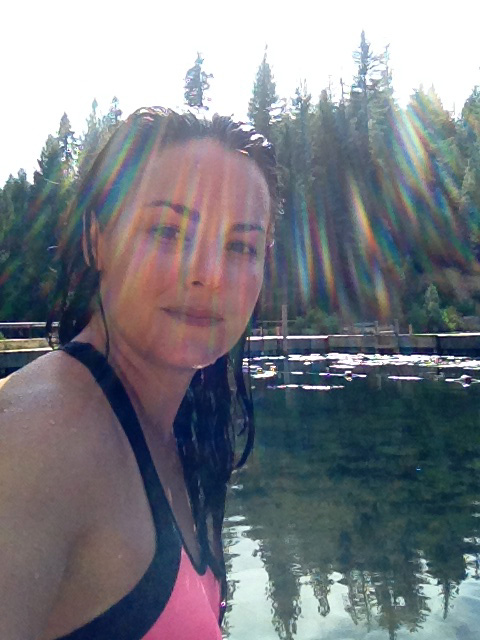 Let me explain: we had been tent camping up at Butte Meadows (Camp Ishi) and I had chosen to go for a hilly 4 mile run and then afterwards jumped into the ice cold pond to cool off (this girl barely dips a toe into cold water. Ask Matt). It was freezing, it was invigorating, the wind chilled my skin and I was sore and hungry, but I felt truly amazing and it was at that point that I really knew I had changed forever into the ACTIVE mother, wife and small-business owner that I wanted to be.
I would say "The End" but it's not… it's only the beginning.